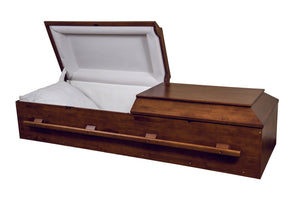 Exterior Dimensions 78"x 29"

Interior Dimensions 76"x 24"

Flat Top Panels

Stationary Handle Bars

Solid Hardwood




Matte Cherry Stain

Light Crepe interior
The Rockton is the perfect casket for burial or for cremation. It is a simple and clean casket, understated with no frills or bling. The cherry stain and solid wood construction give this casket a timeless aesthetic and a humble presence. Pine box is the term sometimes used. When someone is looking for a pine box they are looking for simple, economical, and no frills.