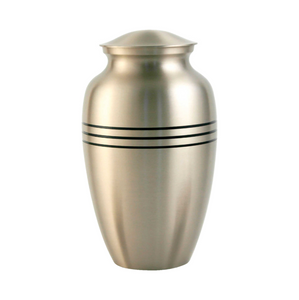 Simple and always appropriate, the Classic Three Bands Pewter Cremation Urn - also known as the Roman Urn - is a traditional urn with a set of three lines engraved around the center. The finish of this urn is a soft pewter.

Many families choose this urn due to its sturdy construction of solid brass as well as its classic design. The top closes securely with a threaded lid.

The Classic Three Bands Pewter Urn is an adult urn - it will hold the ashes of any adult that weighed 200 lbs. or less prior to cremation. You can feel confident in your selection of this traditional urn to honor a loved one.
| | |
| --- | --- |
| Size  | Standard Adult Urn  |
| Dimensions  | 10" H x 6" Diameter |
| Capacity  | 200 Cubic Inches (Room for 200 Lbs. Person)  |
| Weight  | 4.35 lbs.  |
| Material  | Brass  |
| Opening  | Threaded lid opens at top. Can be sealed if desired. |