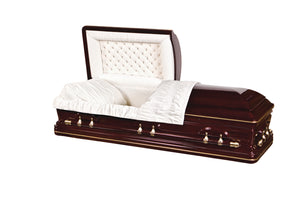 Exterior Demensions 85.4" x 29" x 24"

Interior Demensions 78" x 24"

Solid Elm Wood

Gold Trim Around the Lid and Around the Base
Fully Polished High Gloss Dark Mahogany Finish
Solid Wood Swing Bars with Antique Bronze Hardware
Adjustable Bed Frame
Memory Date Tube
Light Champagne Velvet Interior 
Why pay over $7,000 at the Funeral Home when you can get it direct for under $3,000. This is an elite and top of the line casket that is for anyone looking for the best money can buy. It is an elegant choice for both men and women. The deep and rich natural tight grain of American Elm give this casket a touch and feel that will leave a lasting memory. The hand polished finished and gold trim set this casket into a class of its own.