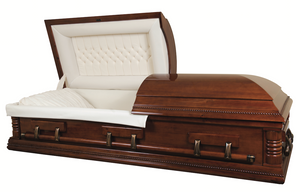 Exterior Dimensions 85.4"x 29"x 24"



Interior Dimensions 78"x 24"

High Gloss Hand Polished Finish

Cream Velvet

Carved Rope Borders Around Lid and Base

Medium Mahogany Color Tone
A Texas Classic. The Jackson has been designed and constructed with an attention to detail that is impossible to match. From the ultra luxury velvet, to the carved wood roping, this casket is simply perfect. It is popular with both men and women alike.